Hundreds of speeding tickets are written each day to Miami-Dade drivers. For many of the drivers receiving these tickets, they simply write it off and think "how bad can a little speeding ticket be?" What they don't realize, is the additional repercussions the speeding ticket brings. Increased auto insurance, points on driver license, possible traffic school, a conviction on record, and possible suspension of license can all be a result of a traffic ticket, in addition to the fines that many quickly and willingly pay. While a speeding ticket in Broward County may carry different penalties and fees than one in Palm Beach County, it's important to know that, regardless of county, the Traffic Ticket Team is here to help you fight the speeding ticket.
According to the Florida DMV, over 5 million traffic tickets are issued each year, with a vast majority of these being speeding tickets. There are 6 levels of speeding tickets that drivers may receive, ranging from 0-5 MPH over the limit all the way up to 30 MPH and over. The speed in which the driver is exceeding the speed limit will determine the fines and associated points for the ticket. Fines for the lower end of the speeding spectrum range from $125-200, while tickets on the high end can exceed $300 and require a mandatory court appearance.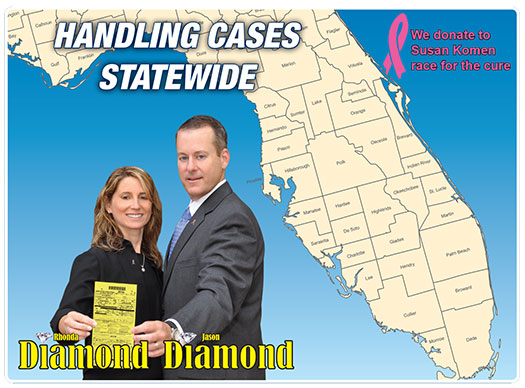 Before You Pay Your Florida Speeding Ticket
Fight that Speeding Ticket!
What happens if I let legal professionals fight my Florida speeding ticket for me?
Recommended Option!
YOU HAVE A 100% MONEY BACK GUARANTEE TO GET NO POINTS & NO CONVICTION & NO SCHOOL

YOU WON'T HAVE TO MISS SCHOOL OR WORK OR YOU WILL GET YOUR MONEY BACK

YOU WILL NOT HAVE TO GO TO COURT

YOUR INSURANCE MAY NOT GO UP

YOU WILL HAVE PEACE OF MIND, YOUR LAWYERS ARE HANDLING EVERYTHING
Pay Your Florida Speeding Ticket
What happens if I just pay my Florida speeding ticket and/or go to traffic school?
Not Recommended | Serious Consequences!
YOU WILL GET 3-4 POINTS ON YOUR LICENSE

YOU WILL HAVE A CONVICTION ON YOUR RECORD

YOU MAY HAVE TO GO TO DRIVING SCHOOL

YOUR CAR INSURANCE MAY GO UP

YOU MIGHT HAVE YOUR LICENSE SUSPENDED
Where To Pay Your Florida Speeding Ticket