Coming to a complete and full stop at a florida stop sign is required by law. Yet, everyday we see vehicles perform the "rolling stop." Not only does this "rolling stop" put the vehicle's driver and it's passengers at risk, but also other vehicles approaching the intersection along with any pedestrians who may be crossing the intersection. The thick, large white line that goes across the intersection is your mark to STOP!
How much is a stop sign ticket?
A stop sign ticket in Broward County can be over $260, while in Miami-Dade County, as well as Broward County, the fines associated with a stop sign ticket can exceed $270. In addition to these hefty fines, drives can expect to receive 3 points on their license. The Traffic Ticket Team has crafted many stop sign ticket defenses for clients in the past that have helped to reduce or dismiss the Florida stop sign ticket. If your thinking of how to fight a stop sign ticket or even how to dismiss a stop sign ticket, there are many individual situations such as the limit line on the roadway is very difficult to see, or if the stop sign itself was not clearly visible. If something like this applies to you, then you may have a case and a chance at dismissing the ticket.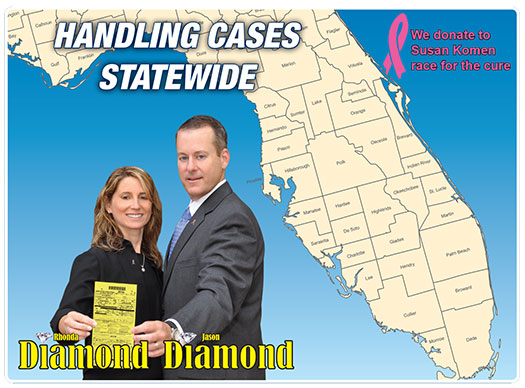 Before You Pay Your Florida Stop Sign Ticket
Fight that Stop Sign Ticket!
What happens if I let legal professionals fight my Florida stop sign ticket for me?
Recommended Option!
YOU HAVE A 100% MONEY BACK GUARANTEE TO GET NO POINTS & NO CONVICTION & NO SCHOOL

YOU WON'T HAVE TO MISS SCHOOL OR WORK OR YOU WILL GET YOUR MONEY BACK

YOU WILL NOT HAVE TO GO TO COURT

YOUR INSURANCE MAY NOT GO UP

YOU WILL HAVE PEACE OF MIND, YOUR LAWYERS ARE HANDLING EVERYTHING
Pay Your Florida Stop Sign Ticket
What happens if I just pay my Florida stop sign ticket and/or go to traffic school?
Not Recommended | Serious Consequences!
YOU WILL GET 3-4 POINTS ON YOUR LICENSE

YOU WILL HAVE A CONVICTION ON YOUR RECORD

YOU MAY HAVE TO GO TO DRIVING SCHOOL

YOUR CAR INSURANCE MAY GO UP

YOU MIGHT HAVE YOUR LICENSE SUSPENDED
Where To Pay Your Florida Stop Sign Ticket